Burris Six X Rifle Scopes
The Burris Six X Rifle Scope Series features one of the most advanced optical designs available anywhere at any price. With it's 6:1 magnification ratio, you can quickly adapt the Burris Six X to the ideal power level for any hunting situation - from thick brush to long-range precision.
At 2x, you have the huge field-of-view you need for moving game in thick cover and dark timber. For mid-range applications, 6x gives you the ideal combination of power and field-of-view. A powerful 12x magnification is at your fingertips for an ethical 400 yard one shot kill.
The Burris Six X contains some of the world's finest precision-ground glass. Lenses are index-match multi-coated with HiLume StormCoat for optimum dawn to dusk clarity. Internal components are locked inside the rugged 30mm tube with powerful double spring tension and steel-on-steel click adjustments insure quick, accurate sight tuning.
The versatile Burris Six X may well be the only scope you'll ever need. But then, you'll most likely find yourself wanting one for all your rifles.

800-641-4470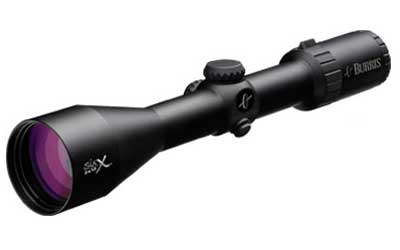 Burris Six X Rifle Scope Specifications

Model #

Obj. Diam (mm)

Exit Pupil
FOV @ 100 yds-Feet
Eye Relief-Inches
Adj. Range - MOA
Click Value - MOA
Tube Diameter (mm)
Length - Inches
Weight - Ounces
Mounting Length - Inches

Price

Burris Six X 2-12 x 40mm Matte Ballistic Plex

BUR201951
40
20-3.3
50-8.5
3.5-4.0
70
0.25
30
12.8
18
6.4
$799

Burris Six X 2-12 x 40mm Matte Illuminated Ballistic Plex E1

BUR201953
40
20-3.3
50-8.5
3.5-4.0
70
0.25
30
12.8
18
6.4
$999

Burris Six X 2-12 x 50mm Matte Ballistic Plex

BUR201956
50
25-4.2
50-8.5
3.5-4.0
70
0.25
30
12.9
19
5.7
$999
Return to Main Burris Rifle Scope Pricing
Also Offering The Following Products!
[HOME] Rifle & Handgun Scopes Binoculars Spotting Scopes Laser Rangefinders Night Vision

800-641-4470
Telephone & Mail Order Hours: Mon. - Fri. 7:00 AM - 6:00 PM Pacific Time
Saturday: 8:00 AM - 2:00 PM Closed Sunday
Telephone Orders: 800-641-4470
All Other Questions & Outside The USA: 925-825-9803
Fax Orders: 925-825-9027
Show Room Open Monday - Friday & 1/2 Day On Saturday
Questions, UPS Tracking and e-mail: Info@BearBasin.com
To Subscribe to Our Newsletter and e-mail Specials, Send Us a Note At: Newsletter@BearBasin.com
---