Premium Quality Optics...Great Prices...Expert Customer Service

Leica Trinovid Binoculars

Free UPS Ground Shipping On Orders Over $199

FREE EXPRESS Shipping On Orders Over $899!

1-800-641-4470

Your Satisfaction Is Guaranteed
New for 2012 The return of a classic glass with a reputation stretching back over 50 years for quality and performance, the Leica Trinovid 42. These new binoculars are much more than a product upgrade. Leica has consistently refined the construction and invested in new materials. The result is two new models, the best Leica Trinovid binoculars of all time. Their trademark: compact and ergonomic construction, internal focusing with intuitive handling and superior optical performance. At the same time, these new binoculars are almost indestructible and are uncompromisingly powerful. You will never want to be without your Leica Trinovid 42 binoculars again, especially on long and demanding birding trips.
| | | |
| --- | --- | --- |
| | | |
| Order No. | LCA40008 | LCA40009 |
| Magnification | 8X | 10X |
| Objective | 42mm | 42mm |
| Exit Pupil | 5.3mm | 4.2mm |
| Field of View @ 1000 yds | 322 ft | 376 ft |
| Eye Relief | 15.5mm | 16mm |
| Close Focus | 11.5 ft | 11.5 ft |
| Weight | 28 oz. | 28 oz. |
| Dimensions | 4.7x5.7x2.7 | 4.7x5.7x2.7 |
| Price | $1,449 | $1,499 |
Return to Main Leica Binocular Page
[HOME]
[Spotting Scopes] [Hunting/Shooting Scopes] [Rangefinders] [Night Vision] [Scope Mounts] [How To Order]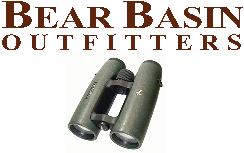 Bear Basin Outfitters
Telephone & Mail Order Hours: Mon. - Fri. 7:00 AM - 6:00 PM Pacific Time
Saturday: 8:00 AM - 2:00 PM, Closed Sunday
Telephone Orders: 800-641-4470
All Other Questions & Outside The USA: 925-825-9802
Fax Orders: 925-
825-9027
Show Room Open Monday - Friday & 1/2 Day On Saturday
Questions, UPS Tracking and e-mail: Info@BearBasin.com
To Subscribe to Our Newsletter and e-mail Specials, Send Us a Note At: Newsletter@BearBasin.com