Premium Quality Optics...Great Prices...Expert Customer Service

SWAROVSKI EL Rangefinder Binoculars

Free UPS Ground Shipping On Orders Over $199

FREE EXPRESS Shipping On Orders Over $899!

800-641-4470

Your Satisfaction Is Guaranteed
The Swarovski EL Rangefinder Binocular redefines hunting equipment. A single instrument combines the capability of razor-sharp, top-quality optics with precise measuring. Highest transmission values, low weight and the widest field of view in its class literally set new standards for optics and precise measuring. A steady hand is required for measuring distant targets. The legendary Swarovski EL wrap-around grip, the low, perfectly balanced weight and the unique shape ensure the Swarovski EL Rangefinder Binocular's good handling characteristics and the display of the exact distance to the desired target. The wrap-around grip ensures binoculars can be held steadily and focus even the smallest targets at a great distance. The ergonomic shape provides additional stability and permits single-handed operation. Many hunting challenges are caused by geographic circumstances. Firing an accurate shot uphill or downhill requires precise timing and ballistic experience, or a precise measuring instrument.
The Swarovski EL Rangefinder Binocular with SWARO-AIM is equipped with a completely new angled-shot program developed by Swarovski, which determines the precise, correct distance and an exact aim - even in the most demanding terrain. The Swarovski SWARO-AIM Program calculates the correct bullet trajectory for angled shots on the basis of the program developed by Swarovski, while taking into consideration the measured distance and angle to the target.
Scan function, also for measuring angles

Optional display of angle or corrected shooting distance

SWARO-AIM display turns on and off easily as needed

Not dependent on caliber
Return to Main Swarovski Binocular Price Page
Order No.
SWA70008
SWA70010
Magnification
8X
10X
Objective
42mm
42mm
Exit Pupil (mm)
5.3
4.2
Field of View @ 1000 yds
411
330
Close Focus Distance
16.4 ft
16.4 ft
Measuring Range (yds)
33-1500
33-1500
Measuring Accuracy
+/- 1
+/- 1
Measuring Function
Scan mode, single measurement
Scan mode, single measurement
Laser
Class 1 EN/FDA
Class 1 EN/FDA
Battery
CR2
CR2
Dimensions
6.5 x 4.6 x 3.2
6.5 x 4.6 x 3.2
Weight (Without battery) (oz)
32.1
31.6
Price
$3,129
$3,179

*The Swarovski EL Rangefinder Binocular also includes a Carrying Strap, with pockets for replacement battery, snap shot adapter, Field Bag, ocular and objective covers and a replacement battery.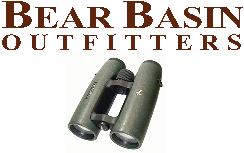 Bear Basin Outfitters
Telephone & Mail Order Hours: Mon. - Fri. 7:00 AM - 6:00 PM Pacific Time
Saturday: 8:00 AM - 2:00 PM, Closed Sunday
Telephone Orders: 800-641-4470
All Other Questions & Outside The USA: 925-825-9802
Fax Orders: 925-
825-9027
Show Room Open Monday - Friday & 1/2 Day On Saturday
Questions, UPS Tracking and e-mail: Info@BearBasin.com
To Subscribe to Our Newsletter and e-mail Specials, Send Us a Note At: Newsletter@BearBasin.com