Premium Quality Optics...Great Prices...Expert Customer Service

Swarovski Swarovision EL Binoculars

1-800-641-4470

Your Satisfaction Is Guaranteed
Swarovision 0% Easy Pay Promotion
Ask About our EL Swarovision Up Grade Program.. $1099 For Your Old 10X ELs ($899 for 8.5X 42s)!
Available In "Click" Description Swarovski Swarovision EL 8.5X 42 MM Binoculars & Swarovski Swarovision EL 10X 42MM Binoculars
Tech Specs & Photos for New 10x50mm & 12x50mm EL Swarovision Binoculars Coming Soon
Unique Optic Design With New Swarovski EL Swarovision Featuring HD Glass To Enhance The Contrast And Resolution As Well As Virtually Eliminating Color Fringing.

The Swarovski Swarovision Lenses Allows For A Razor Sharp Focus Of An Image To The Extreme Edges Of The Field Of View.

The Swarovision EL Binoculars Have Long Eye Relief; Now 20mm, Allowing Eyeglass Wearers To Easily See The Full Field Of View. The Eyecups Now Have 3 Position Settings For Maximum Comfort For The User.

Swarovision Binoculars Offer Optimized Roof-Prism System With P-Coating.

6-Lens Objective With Excellent Light Gathering Qualities.

Integrated Diopter Adjustment In The Pull-Out Focusing Wheel.

The New Focusing Wheel Made From Hard And Soft Components Is Non-Slip, Sturdy, Easily And Accurately Operated

The Swarovski Swarovision EL Binoculars Are Lightweight Due To The Magnesium Housing.

Supplied With A Water-Repellent Functional Bag, Lift Carrying Strap, Protective Caps For Eyepieces And Objectives Plus Snap Shot Adapter.
Check out the Swarovski EL Binoculars, Swarovski SLC Binoculars and Swarovski SLC HD42 Binoculars
Optics Expert Review Swarovision Review
Return to Swarovski Binoculars
SWAROVSKI EL HD BINOCULARS

Item #
Size
Field of View (ft @ 1000 yds)
Eye Relief (in)
Exit Pupil (mm)
Objective Dia.
Weight (ounces)
Length (In)
Close Focus (Ft)
Price

SWA34108
8.5x42
399
20
4.9
42mm
28 oz.
6.3 in.
4.9 ft.

$2,529

SWA34110
10x42
336
20
4.2
42mm
28.2 oz.
6.3 in.
4.9 ft.

$2,579

SWA35010
10X50
345
N/A
5
50mm
35.2 oz.
6.8 in.
9.2 ft.
$2,769
SWA35012
12X50
300
N/A
4.2
50mm
35.2 oz.
6.8 in.
9.2 ft.
$2,829
Return to Swarovski Binoculars
A Full Line Stocking Dealer For All The Products Below
[HOME] Binoculars Spotting Scopes Laser Rangefinders Rifle & Handgun Scopes Night Vision Rings & Bases Ordering Information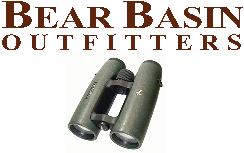 Bear Basin Outfitters
Telephone & Mail Order Hours: Mon. - Fri. 7:00 AM - 6:00 PM Pacific Time
Saturdays 8:00 A.M. - 2:00 P.M., Closed Sundays
Telephone - Orders - 1-(800) 641-4470
All Other Questions & Outside The USA 1-(925) 825-9803
Fax Orders 1 (925) 825-9027
Show Room Open Monday - Friday & 1/2 Day On Saturday
Questions, UPS Tracking and e-mail: Info@BearBasin.com
To Subscribe to Our Newsletter and e-mail Specials, Send Us a Note At: Newsletter@BearBasin.com